We are considered as one of the major manufacturer and exporter of the wide range of the compressor spares. Air compressor is widely used in so many industrial applications. It is used in the systems of air, gas and refrigeration. We manufacture and export all types of compressor spares that are used in air compressors india.
With deep knowledge of fabrication and related fields, we fabricate optimum air filters and air filtration system. In compressor system, quality of compressed air is maintained for the effective use of the device or machinery. In order to get rid of entire impurities from such air, we have designed big series of air filters. It is used to remove the impurities from the air. It efficiently removes pollen, dirt and oil from the compressor.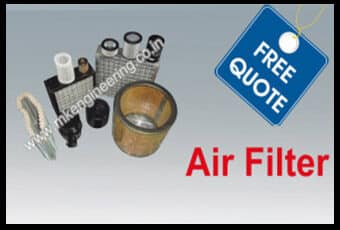 Our air compressor filters are widely used in building ventilation systems. Air Filter is used in many air handling systems. It is used in heavy machinery and earth moving instruments. It is also used in gas compressor. It is also seen in cement plants and mines.
Our updated manufacturing facilities have helped us to decrease production cost. Employment of efficient system is also been very useful to cut down cost of the products.
High tensile strength
Inline connection
Low pressure drop
Positive sealing surfaces