As being leading manufacturer and exporter of premium quality air compressors and compressor spares and parts, we have developed highly durable range of cross head pins and bushing. It is used to decrease sideways pressure on pistons in air handling systems.
We make use of high grade construction material to fabricate cross head pins and bushing for the efficient handling system. Cross head pins and bushing is used to connect the piston rod to the connecting rod. It is used to transform crankshaft's circular motion to linear motion for piston and rod.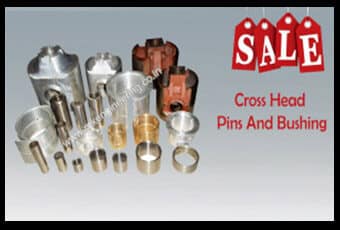 As the name suggests, cross pins are held in place and tapped at the ends. We offer specific and precise customization for the cross head pins and bushing.
CROSS HEAD PINS AND BUSHING FEATURES
Availability.
Quality Assured.
Materials-metallic, alluminium alloy, EN.
Exacting Specifications.
Induction hardening where proper.
Competitive Price.