Having rich experience of fabrication of varied series of air compressor spares and parts, we have designed and developed high quality range of piston rings and rider rings. We manufacture such product with confirming international norms and conditions.
We are counted in one of the prominent manufacturer and exporter of the optimum quality piston rings and rider rings.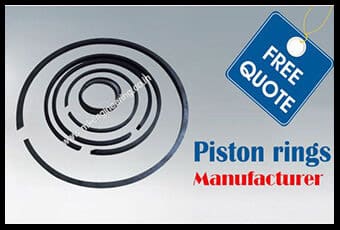 Piston rings are efficiently used to stop the flow of compressed air between cylinder and piston while as rider rings are used to prevent leakage from the cylinder.
It is one piece ring. Such segmental straight piston and rider rings are available with angle cut, twin ring and step cut ring and double twin ring. It helps to balance pressure of compressed air in tough condition. To cope up with high temperature functions, we have designed premium quality rings.
To fulfill wide range of industrial activities, we fabricate our series of piston rings and rider rings with wide range of construction materials. We make use of the carbon filled Teflon, Nylon, bronze filled Teflon, glass Moly filled Teflon and peek. It is used to seal and supports the piston of gas compressor and air compressors India.