Having big supply chain in domestic as well as international market, we offer big series of compressors with optimum quality. Considering recent market need of industry, we have designed and developed vast range of compressors. Among our series of products, heavy duty water cooler vertical compressor is highly demanded for various industrial applications.
To offer desired quality of air compressors and compressor parts and spares, we possess sufficient quantity of high grade material that helps us to hand over bulk orders with predefined time frame.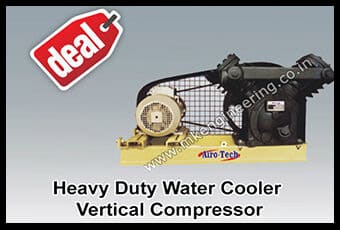 Heavy duty water cooler compressor is made for continuous operation. It possess huge space for the air that made it competitively best. It is precisely engineered to suit wide range of industrial applications.
It is vertical compressor. It is suitably used in industrial refrigeration and in ceramic industry for liquid transfer. It is also used for low temperature applications and in paper handling and laminating plants.