Our series of connecting rods are available with many options of construction material. We possess highly advanced production facilities to fabricate entire range of compressors and compression parts.
We are counted in top most manufacturers and exporters of air compressors, compressor spares and compressor parts. Our range of construction material comprises SGI casting, aluminum alloy, drop forged and metallic brass. Our range is fabricated as per OEM specifications.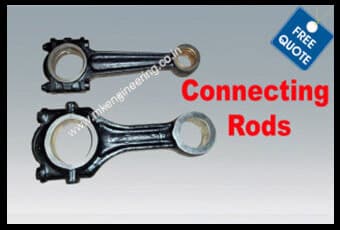 We also offer accurately manufactured custom connection rods as per given configurations. Our connection rods are available for wide variety of projects. For the specific requirements, we offer connection rods from carbon steel, aluminum blends and many more. it is also offered for S.G. irons, bronze and carbon steel. We also offer connection rods from steel and aluminum blends. We manufacture and export optimum quality connection rods that are used to piston rods.
KEY FEATURES OF CONNECTION ROAD:
Highly durable
Eliminate break down
Avoid hidden flaws